Lunarpages and GoDaddy have been providing various Windows hosting solutions for years. There are several similar things between their offerings, such as the shared hosting control panel, but depending on their marketing strategies, differences still lie in the pricing and hosting resources.
In this comparison, we will focus on the two companies' Windows web hosting plans and present their similarities and differences. By reading all the details, you will be able to evaluate their value by yourself.
To make the comparison as comprehensive as possible, we have read a lot of user reviews, monitored their server response time and service uptime, and taken a deep look at their prices and discounts. Based on the solid information, we finally made the following ratings.
| Rating | | |
| --- | --- | --- |
| Reliability | | |
| Prices | | |
| Features | | |
| Speed | | |
| Technical Support | | |
The Common Award-Winning Aspects
Analyses and reviews show that both Lunarpages and GoDaddy provide helpful features and good uptime. Their uptime guarantees also make sure that you can have a worry-free trial with them.
Great control panel
For Windows hosting, Lunarpages and GoDaddy provide the same Plesk control panel. They have pre-installed the control panel on their Windows servers, so that you can install scripts, create databases and add domains as soon as your hosting account is set up.
Plesk is quite easy-to-use, and it has gained vast popularity among Windows hosting users.
Rich Windows hosting features
The two web hosts offer most of the common Windows technologies and have been trying to keep them up-to-date. Some other tools and features you may need are also available to help you get a good experience.
To be specific, the following Windows technologies and features are accessible to the two companies' Windows hosting users.
Lunarpages: Windows Server 2012 R2, IIS 8.5, MSSQL 2012, MySQL 5.5, ASP.NET 2.0/4.0/4.5, PHP, and CGI.
GoDaddy: Windows Server 2012 R2, IIS 8.5, MSSQL 2005/2008 R2/2012, ASP.NET 2.0-4.5, ASP.NET MVC 3 and PHP 5.2/5.3.
With these features, you should be able to host or develop almost any application.
Windows hosting prices – GoDaddy wins
Lunarpages offers one Windows hosting plan which is priced at $9.95/mo-$12.95/mo depending on the billing term you choose. $9.95/mo is available for 24-month terms, and $12.95/mo is required for 3-month terms. 6-month and 12-month terms are also available choices.
These prices don't seem affordable, especially when the additional setup fee is considered. If you choose the shorter 3/6-month terms, you have to pay a high setup fee of $30 which is much too expensive.
GoDaddy is different from its competitor by offering 3 Windows hosting plans which are discounted currently. The cheapest plan, which is suitable for hosting a basic site, is priced from $3.99/mo only.
If you want more information about the prices, check the list below. Pay attention that all the yearly prices are the promotional offers for the initial term and they renew at the regular rates, the highest prices presented here.
Economy: $3.99/mo, $4.99/mo, $5.49/mo and $7.99/mo for 36/24/12/3-month terms.
Deluxe: $4.99/mo, $5.49/mo, $6.99/mo and $9.99/mo for 36/24/12/1-month terms.
Ultimate: $7.99/mo, $8.99/mo, $9.99/mo and $14.99/mo for 36/24/12/1-month terms.
With any of GoDaddy plans, you can receive a free domain by choosing an annual term.
Windows hosting resources – Lunarpages wins
Generally speaking, Lunarpages provides more hosting resources than GoDaddy. The former doesn't set limitations to the number of subdomains, MySQL databases and FTP accounts, while the latter does.
However, we do think that neither of them is excellent in the cost effectiveness. The prices of Lunarpages plan are not cheap at all, and GoDaddy plans come with many limitations.
To get more details about this, you can read the following table which compares the two web hosts' plans as well as a cost-effective plan offered by HostForLIFE.eu, a provider of quality Windows hosting.
| Feature | | | |
| --- | --- | --- | --- |
| Plan | Windows Hosting Plan | Business | Basic |
| Disk Space | Unlimited | Unlimited | Unlimited |
| Bandwidth | Unlimited | Unlimited | Unlimited |
| Website(s) | 2 | Unlimited | Unlimited |
| FTP Users | Unlimited | 50 | Unlimited |
| MySQL DBs | Yes | Yes | Yes |
| MSSQL DBs | Unlimited | 2 | Yes |
| Isolated Application Pools | Unspecified | Unspecified | Yes |
| Regular Price | $9.95/mo | $9.99/mo | €3.00 |
| Discount | – | 40% | – |
| Special | – | $5.99/mo | |
Slow speed
For many experienced web hosting users, the first word coming to their mind when talking about the web hosting services offered by GoDaddy is "slow". Although the company has been providing hosting solutions for many years, it hasn't made enough efforts to improve the speed of its servers and networks.
In terms of speed, Lunarpages does no better than GoDaddy, and its performance is still far away from being good enough. Our monitoring system tells that the server response time of Lunarpages averages over 800ms, which is slow even for the common needs.
Below is the comparison of the two companies' server response times.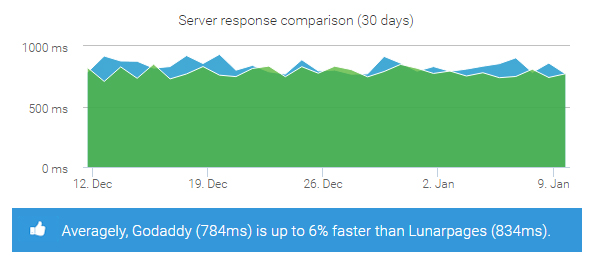 Lunarpages vs GoDaddy – Support
Lunarpages and GoDaddy provide many resources for technical support, including live chat, a support phone number, and a knowledgebase covering a large number of common hosting topics. Besides, Lunarpages also offers a ticket system and multiple forums for users to get help from its support team.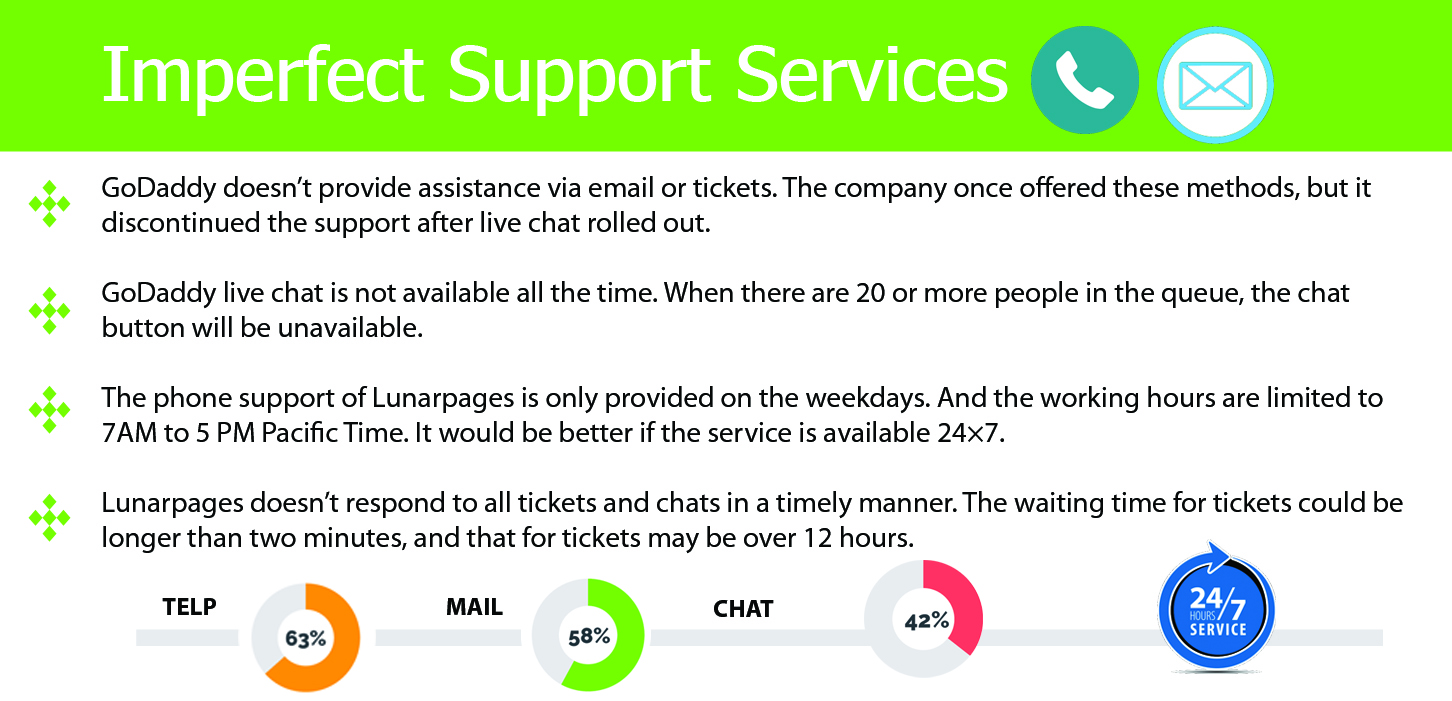 Lunarpages or GoDaddy?
The two companies do provide reliable Windows hosting services, so you don't need to worry about scams. However, neither of them is recommended if you want to buy a Windows hosting plan which is fast, affordable, and comes with quality support. The reasons have already been presented above. For the suggestions of better Windows hosting providers, we would list the following three due to their rich-featured plans, excellent scalability, risk-free refund guarantees, and prompt support.
Rank
Company
Features
Price

1

ASPHostPortal

Windows 2012 R2
Easy Plesk Control Panel
MSSQL 2012/2014
30 day money back
FULL Trusted hosting
Dedicated application pool
ASP.NET 2.0/3.5/4.5/5, MVC 2/3/4/5/6, Silverlight 4/5
Word class data center

$5.00/mo

2

HostForLIFE

Windows 2012R2
Unlimited Site
Unlimited Bandwidth
Unlimited Disk Space
MSSQL 2012/2014
ASP.NET, MVC, Silverlight, URLRewrite2, WebMatrix
Excellent costumer support

€3.00/mo

3

DiscountService

Windows 2012 R2
MSSQL 2012/2014
Unlimited Site
30 day money back
FULL trusted hosting
Dedicated application pool
ASP.NET 1.1/2/3.5SP1/4.5, MVC 4/5, Silverlight 4/5
Australian Server

$7.00/mo