Since one Windows hosting package comes on the heels of another, people feel that it is really hard to decide which one is trust-worthy. Recently, our editors pick out eNom and GoDaddy and host two websites with their Windows hosting and make a comparison between them. Here, we wish to share the first-hand experience with readers who are looking for a premium Windows hosting plan.
eNom VS GoDaddy > Overview
As an old brand in the hosting industry, eNom has served countless individuals or enterprises worldwide since 1998 and become a leading domain name registrar. And also, it has been recognized as a comprehensive platform for website building and development.
GoDaddy's commitment is to offer fast, reliable and secure hosting services, and this company has won the desired appreciation of millions of webmasters. Its Windows hosting solutions integrate with advanced ASP.NET features to give customers unprecedented hosting experience.
| | eNom | GoDaddy |
| --- | --- | --- |
| Reputation | | |
| Price | | |
| Features | | |
| Speed | | |
| Reliability | | |
| Technical Support | | |
eNom VS GoDaddy > Plans & Pricing
eNom launches 3 Windows hosting packages to meet the needs of different websites developed by individuals or corporations. The Spotlight plan is designed for the sites built on basic features while the Advanced plan is the best valued one. For some readers planning to create an enterprise website, the Power SQL 250 is a solid choice. Those three Windows hosting solutions are priced at $4.88/mo, $8.00/mo and $20.00/mo respectively.
For GoDaddy customers, they can make a choice from three Windows hosting plans named as Economy, Deluxe, and Ultimate. The original price of each package is $6.99/mo, $8.99/mo, and $14.99/mo, which is reduced automatically with 50% discount, down to $3.49/mo, $4.49/mo and $7.49/mo respectively.
[wpsm_comparison_table id="2″ class=""]
eNom VS GoDaddy > Performance
In order to guarantee 99.9% uptime, both eNom and GaDaddy utilize business-standard data centers that are powered by robust servers, fully redundant power supply, UPS, and diesel generators. The 24/7 network monitoring makes sure that all facilities keep running well around-the-clock. Here, we list the uptime monitoring to GoDaddy in the past 30 days.

In addition, we also test their hosting speed. Averagely, eNom takes about 800ms server response time while GoDaddy consumes 784ms. Obviously, the two results are not ideal for people who have a high demand on page loading speed. In the meanwhile, another company called HostForLIFE.eu is in our testing scope, which performs much better in this aspect. Check the evidence as below.

eNom VS GoDaddy > Windows Hosting Features
Webmasters who choose Windows hosting service attach great importance to some related features, like the Windows server, MSSQL, .NET framework, ASP.NET, etc. Besides, the resource allocation is also a big concern of a quality Windows hosting solution.
[wpsm_comparison_table id="3″ class=""]
According the listed information, there is a slight difference between eNom and GaDaddy. To be frank, GaDaddy allocates more resources to each hosted website. It integrates with later version of Windows server and .NET programming languages as well as some advanced features like Web Deploy and WebMatrix.
Since people prefer to use the understandable control panel, GaDaddy offers Plesk to help webmasters deploy their sites with ease. eNom develops its own control panel coming with rich features. However, it may not as fully functional as some well-known control panels in the market.
eNom VS GoDaddy > Technical Support
Speaking of technical support, there is a similarity of eNom and GaDaddy because they both offer phone and email communication channels. All support staffs are standby 24 hours a day, 7 days a week to deal with any issue as quickly as possible. However, they both fail to provide live chat support, which is the most convenient and responsive way without the need to worry communication barriers.
Summary – Not Recommended
As we can above, each Window hosting solution of eNom and GaDaddy includes the maximum possibilities at an affordable. However, when it comes to hosting speed, reliability and technical support, they are not as good as some other hosting providers as below.
[su_note note_color="#4d4d4d" text_color="#ffffff" radius="5″]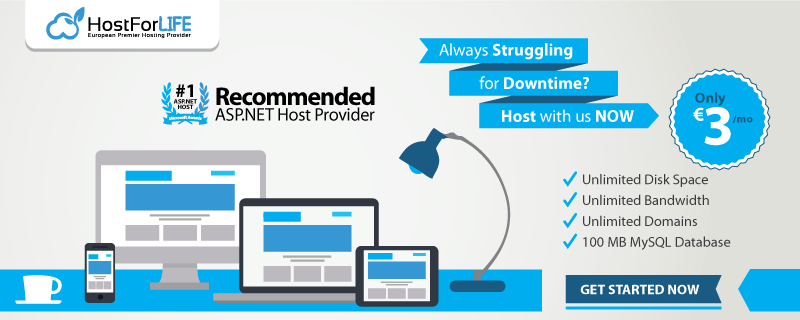 | Money Back Guarantee | Disk Space | Site | Best Overall Hosting Plans |
| --- | --- | --- | --- |
| 30 days | Unlimited Disk Space | Unlimited Sites | www.hostforlife.eu |
24/7 Customer Support
99.9% Site Uptime
30 Day Money Back Guarantee
Unlimited Diskspace & Bandwith
HostForLIFE.eu was founded in 2008 and since then they have grown into one of the largest windows hosting companies in the UK. HostForLIFE.eu is operated from their registered office based in Manchester and data center in Amsterdam and the newest London data center. At HostForLIFE you will find low cost, yet reliable, windows hosting services. Today they host millions of websites across their infrastructure. From entry level Shared Hosting packages all the way up to Private Clusters.
[su_spoiler title="Shared Hosting" style="fancy" icon="caret"]HostForLIFE.eu releases four plans called Classic, Budget, Economy and Business at the prices of €3.00/month, €5.50/month, €8.00/month and €11.00/month if you choose annual payment method. Three billing cycles with different prices are available in HostForLIFE.eu best ASP.NET hosting package. You can choose between 3-months, 1-year and 3-years payment methods.[/su_spoiler]
[su_spoiler title="Feature" style="fancy" icon="caret"]
| | |
| --- | --- |
| Features | HostForLIFE.eu (Classic Plan) |
| Windows | 2008/2012 |
| ASP.NET | ASP.NET 1.0/2.0/3.5/4.0/5/Core |
| IIS | IIS 7/7.5/8/8.5 |
| SQL | SQL 2008/2008 R2/2012/2014/2016 |
| ASP.NET MVC | ASP.NET MVC 1/2/3/4/5 |
| Trust Level | Full |
| FREE Domain | Yes |
| Disk Space | Unlimited |
| Hosted Domain | Unlimited |
| PHP version | PHP 5.2/5.3/5.4/5.5 |
| Webmail | SmarterMail 10 |
| Control Panel | Plesk |
| Money Back Guarantee | Yes |
| Price | €3.00/month |
[/su_spoiler]
[/su_note]